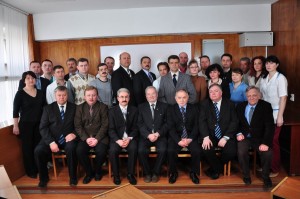 The chair was established as a part of the chair of faculty surgery in 1945 and was located in the surgical department of the 4th municipal hospital from Chisinau. The chair of faculty surgery, as well as the scientific society of the surgeons, was founded by Professor S. Rubashov, who was a representative of the Sankt-Petersburg surgical school. He was the head of chair from 1945 till 1950, in the same time being the chief surgeon of the Ministry of Health.
The main scientific and practical direction was "Treatment of war trauma consequences". During the next decade the chair was conducted by different notorious personalities: professor A. Lvov – 1950-1951, professor N. Kukin – 1951-1956, professor D. Scripnicenco – 1956-1959. The main fields of work during this period were thoracic surgery, esophageal surgery, breast surgery lung surgery, and anesthesiology.
A very important period for the chair of surgery began when professor Nicolae Anestiadi came in front of it (1956-1968). He was an outstanding surgeon and scientist, who started his way through the war surgery and in the postbelic period, joined the didactic staff. His first PhD thesis topic was "The problem of novocaine anesthetic effect prolongation", after which he focused on the research of the homeostasis in surgical pathology of the lungs and abdominal organs. Professor N. Anestiadi founded the physiological studies in surgery in Republic of Moldova. His second PhD thesis (doctor habilitate) topic was "Lung resection in chronic non specific purulent processes". He educated over 20 PhD surgeons, founding the Moldovan surgical school. Together with a bunch of cardiac surgeons – V. Vasiliev, I. Melnic, B. Golea, professor N. Anestiadi founded the cardiac surgery school and in 1964 created the department of cardiovascular surgery conducted by associate professor V. Vasiliev.
After professor Anestiadi passed away (1968), the chair of surgery was conducted by associate professor B. Golea. During 1986-1992 the chief of chair was professor V. Satmari.
In 1992 the chair of faculty surgery divided. The Chair of Surgery no.1 (form 1995 named Chair of Surgery no.1 "Nicolae Anestiadi") continues its activity under the leadership of professor, member of Academy of Sciences Gheorghe Ghidirim. The main fields of research are diagnosis and treatment of the GI tract pathologies, mostly focused on peptic ulcer disease and pancreatitis. Starting with 1991 residents in surgery are trained within the chair. The first laparoscopic cholecystectomy in Moldova was performed in 1992 by professor Gh. Ghidirim and Dr. A. Ghereg. Bariatric and esthetic surgery were founded within our chair as well. Clinical facilities are within CNŞPMU and SCM nr.2 "Sf. Arh. Mihail" and Government Hospital.